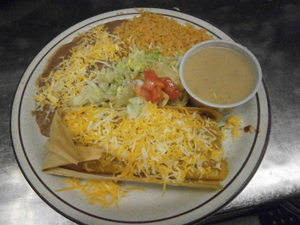 We know Mexican food
…and our customers agree!
Pedro's Mexican Restaurant has been serving delicious Mexican food to its customers for over 33 years. Our delicious menu, filled with popular comfort foods, features something for everyone!
 
Best Mexican food around
Pedro's Mexican Restaurant has been featured in the "New Times" numerous times. We received the award for Best Chicken Taco in 2009 and Best Mexican Restaurant in 2010, Best of Phoenix.

Our restaurant is filled with Mexican charm, from the decor to the service. Our priority is to make sure our valued customers are happy with their dining experience.
 
Dining experience for all occasions
Our restaurant is perfect for all types of dining. Whether you are stopping for a quick bite, sitting down for a family dinner or are entertaining business associates, Pedro's Mexican Restaurant is the place for you. Our delicious food is reasonably priced, meaning that anyone can enjoy the best Mexican food Glendale, AZ has to offer.
 
Come join us for a bite
Drop by our restaurant today and see what everyone is talking about. Contact us anytime to speak with a member of our helpful staff by calling (623) 937-0807.
Gift Certificates & Party Trays Available


Pedro's
Mexican Restaurant
4938 W Glendale Ave
Glendale, AZ 85301

Phone:
(623) 937-0807